Essential Mold Removal & Remediation Services in Southern Alabama and Mississippi
Our team at Mold Doctor understands that mold growth in a home or business is a serious concern. We offer professional mold removal, mold remediation, and mold testing services for homes and businesses in Mobile, Al, Biloxi, MS, and surrounding cities in Southern Alabama, Mississippi, and Northern Florida. 
If you notice mold growth in your home and are interested in having a mold removal expert inspect your home for further mold growth, contact us by calling 251-706-4388 or clicking the button below to schedule your free mold inspection. We service homes across Mobile, AL, and the surrounding counties in Southern Alabama, Mississippi, and Florida.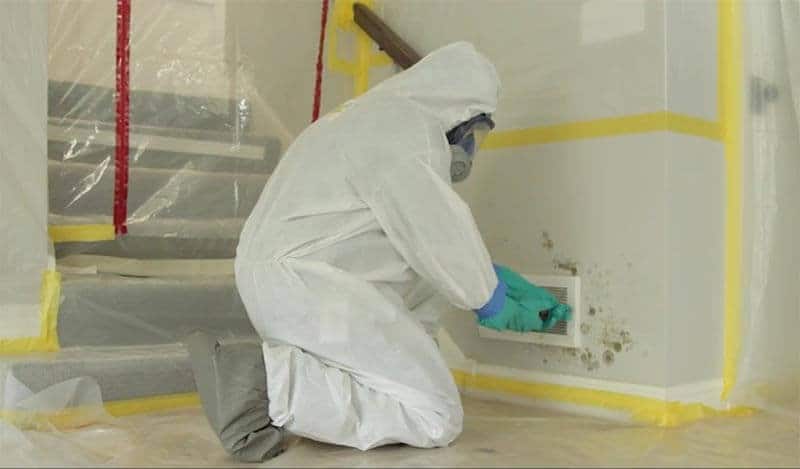 Common Signs of Mold Growth
The first step in any mold removal and remediation process is to identify all of the areas in which mold has grown on your property. Mold growth can often be hard to spot in its early stages because it thrives in damp and dark spaces. Taking a flashlight with you when checking for mold can be an important tool. Aside from visual signs of mold growth there may also be other signs that you have mold growth in your home. These include musty odors, excess coughing or sneezing, and itchy skin or eyes. Be sure to keep an eye out for any of the signs below, contact our team immediately if you have any concerns or questions about mold growth.
Sneezing
Nasal Congestion
Runny Nose
Skin Rash
Itchy eyes or Skin
Watery Eyes
Asthma
Chest Tightness
Wheezing
Lung Irritation
Headaches when you are on the property
Learn more about potential mold growth in your home from the EPA – A Brief Guide To Mold. Our experts are here to answer any questions about mold removal and remediation you may have. Chat with our experts online or call our team at 251-706-4388 for more information. 
Spotting Mold In Your Home
Knowing what to look for when checking for mold is important. Our team at mold doctor has put together this collection of photos to help you identify mold growth in your home.
What is the Difference Between Mold Removal and Mold Remediation?
Most home and business owners think that the only treatment to their mold growth problem is mold removal. Our team at Mold Doctor knows the real solution lies in treating the problems with mold remediation.
Mold removal refers to the process of removing mold from the surfaces in and around your property. This often involves cleaning the surfaces with a non-damaging cleaner that eliminates and kills mold spores. Once the surfaces are clean the mold removal is complete.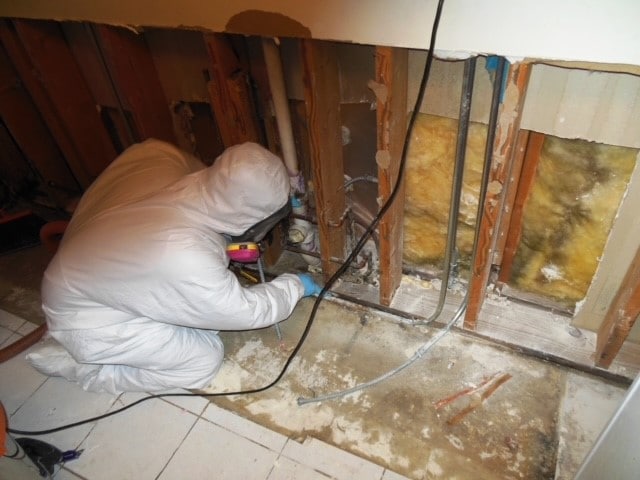 Mold remediation refers to the treatment of the source of mold growth in and around the property. Mold growth occurs when there is excess moisture, high temperatures, and dark spaces. Ensuring that your home does not have any leaks, moisture control issues, or temperate areas for mold to grow is essential in fighting mold growth on your property. This is especially true for home and business owners in Southern Alabama, Southeastern Mississippi, and Northern Florida where humidity levels are particularly high over the long summer months.
Our Mold Testing and Remediation Services
To determine the location, scope, and source of water infiltration and mold growth.
To locate any hidden areas of moisture and potential mold growth.
To verify the amount of moisture present in the affected areas.
Includes 1 air sample to determine the type and concentration of mold spores in the air (additional samples can be collected at a discounted price).
Total: $120 + $150 + $45 + $400 = $715 $325!
Contact Our Team For Mold Removal & Remediation In Southern Alabama and Mississippi
If you are a home or business owner in Southern Alabama, Northern Florida, or Southeast Mississippi and are worried about potential mold growth on your property we can help. Contact our mold removal experts to schedule a mold inspection and to get an estimate on mold removal and remediation for your property. You can reach our team by calling 251-706-4388 or by clicking the link below to schedule online.
Resolving mold growth issues in your home or business is not a DIY project. Mold growth can cause serious allergic reactions and if treated improperly can lead to other mold related health issues. Our team at Mold Doctor professionally tests, removes, and stops mold growth at the source. We have helped home and business owners in Mobile, Biloxi, Gulfport, Gulf Shores, and the surrounding cities tackle mold growth problems for years. 
To get started tackling the mold growth problems on your property contact our experts. You can fill out this form to schedule a mold inspection or mold removal services with our team at Mold Doctor. If you have any questions about mold growth feel free to call the number below so we can answer any mold related questions you have. Check out our Frequently asked questions for the questions we get asked the most by our customers.
GET YOUR FREE HOME INSPECTION